Where toys gather...
Photos, videos, and text of my Toy Collections, currently consisting of the following properties: Kamen Rider, Gundam, DC Comics, Marvel Comics, Star Wars, The Lord of the Rings, Star Trek, GI Joe, Transformers and related Third Party Items, and more.
What Did I Sell? - 2020 Part 1 - Star Wars Edition
Mar 15, 2021
While I would like to own everything (and have a place to display it all), it is a sad truth of collecting that one can't, in fact, own and display everything. And so, from time to time, things once dear to us leave our collections, either because they are no longer precious, or because the space is more precious and needed for something else. These mainly seem to be statues and busts, as over the last few years I've focused more on high-ish end action figures, as there has been a good market for 6" figures of good quality for not-terrible prices.
Since the Star Wars items have been in my collection the longest, I thought I'd start this off with them. These were my first 'high-end' items, when I first branched off from buying the Hasbro 3-3/4" figures, and got into the Gentle Giant mini busts (mainly Clone Troopers) and the Master Replicas scaled lightsaber hilt replicas. I got these around 2006-2007, and though I'm a little sad to see them go, after 13+ years it's okay to let some one else to enjoy them now.
There were the Deluxe bust of the regular clone troopers, with multiple arms and hands and weapon options, so you could vary your display, even though they were all the same thing with different colors. The original batch was a regular clone trooper, a blue 501st clone, and an orange 212th clone.
After those the Shocktrooper deco was released as a San Diego Comic Con exclusive, and some time after that, we got a store exclusive Corusant clone, with an optional unmasked head.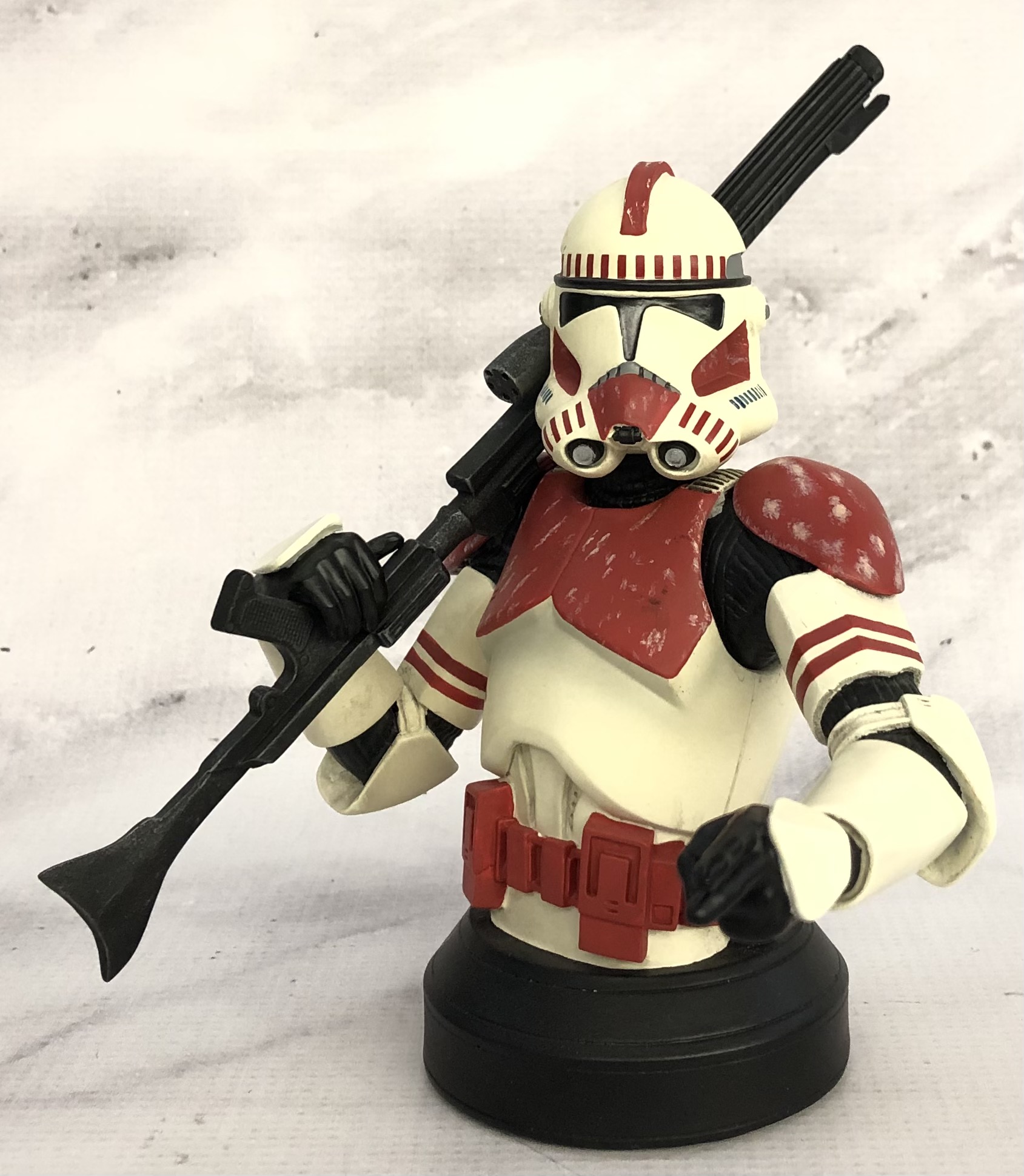 I was a member of a Gentle Giant focused collecting forum at the time, and I commissioned someone to make me a few customs based on some Hasbro clones, the Clone Engineer, Mace Windu's Battalion, and the Clone Shadow Trooper (coincidence that I photo-ed all three of them with the same arm setup, isntead of with the long rifle or something).
In 2007 Gentle Giant decided to be jerks and released 5 different clone commander mini busts, each exclusive to a different convention. It was called something like a world tour, which meant one was exclusive to the UK, Commander Neyo was exclusive to a small convention in Tokyo, and it was the smallest production run and was impossible to get for anything under 5 times retail so I never got him, and the other three were released at US conventions.
Commander Cody was the largest run, and at the biggest show, San Diego Comic Con, and so the easiest to get, and it had a neat light-up feature of holographic Emperor Palpatine issuing Order #66.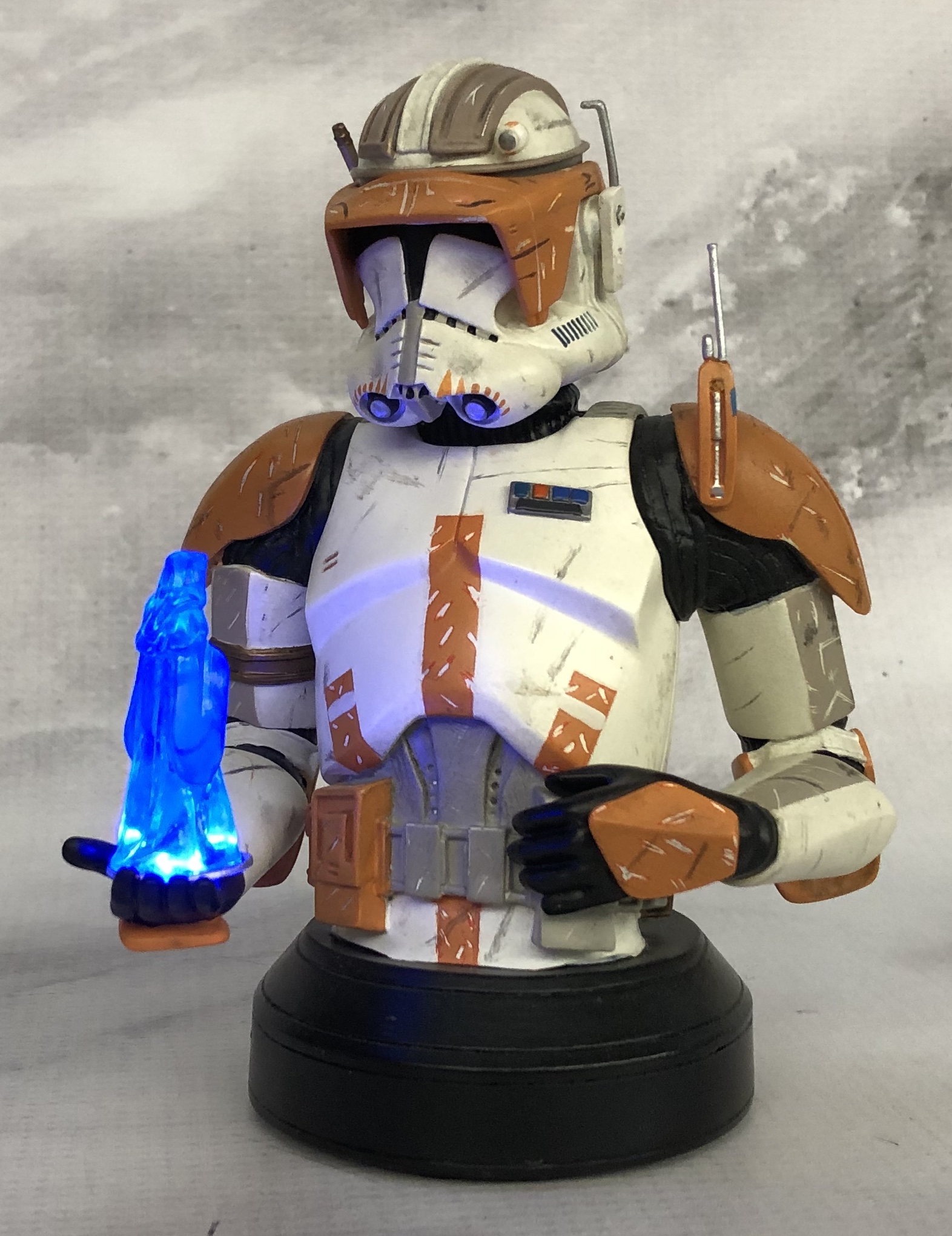 Commander Gree was available at Star Wars Celebration 4 in LA, and wasn't too difficult to acquire.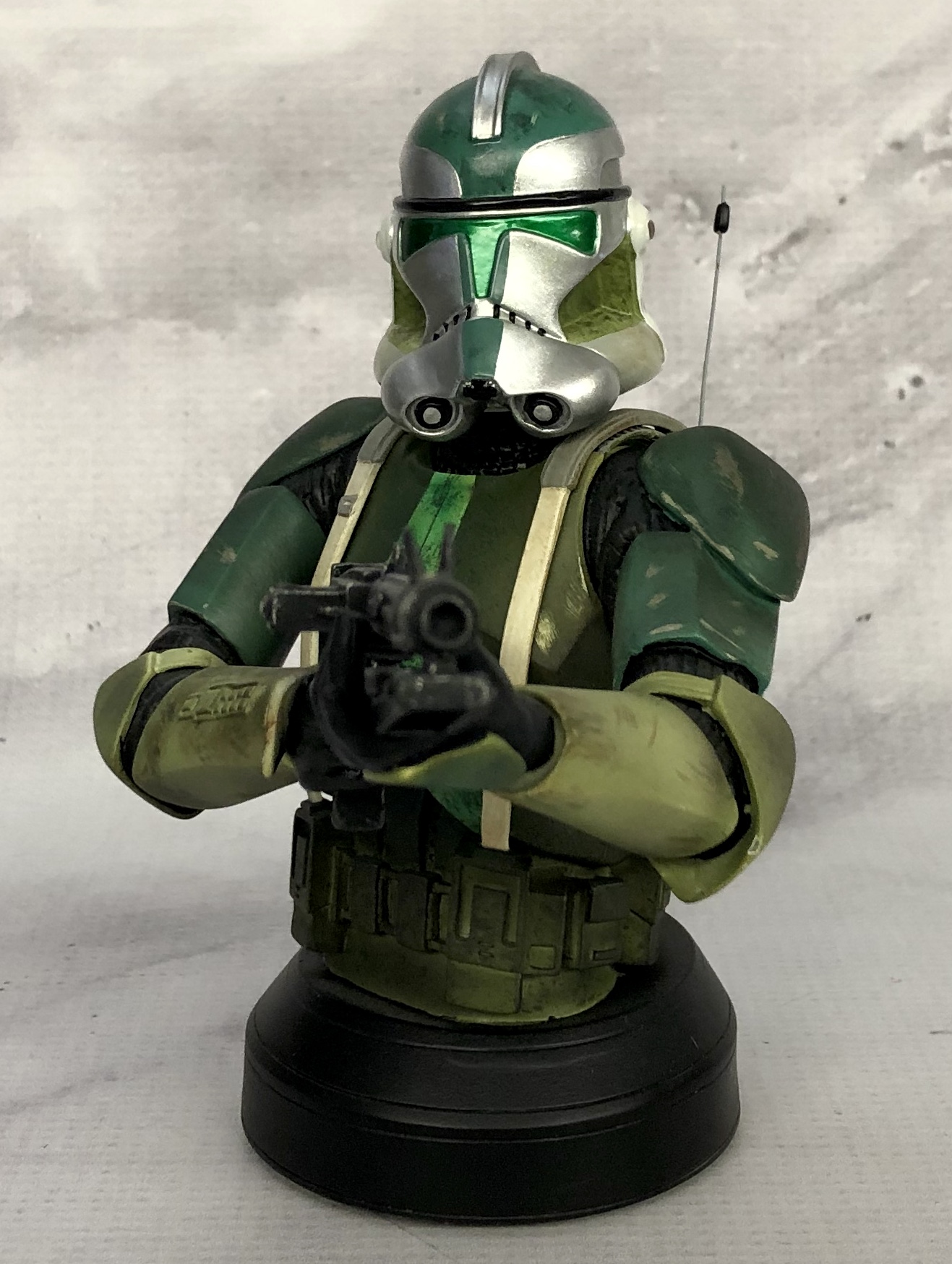 Commander Bacara was released at Baltimore Comic Con, and I don't recall too much trouble getting him either.
Finally, my personal favorite, Commander Bly, was a Forbidden Planet exclusive, in the UK. He cost me a bit more to acquire, on account of international shipping, and I think he was the second-most limited, but I don't remember it being too expensive. But, honestly I don't remember all that well, it was 13 years ago.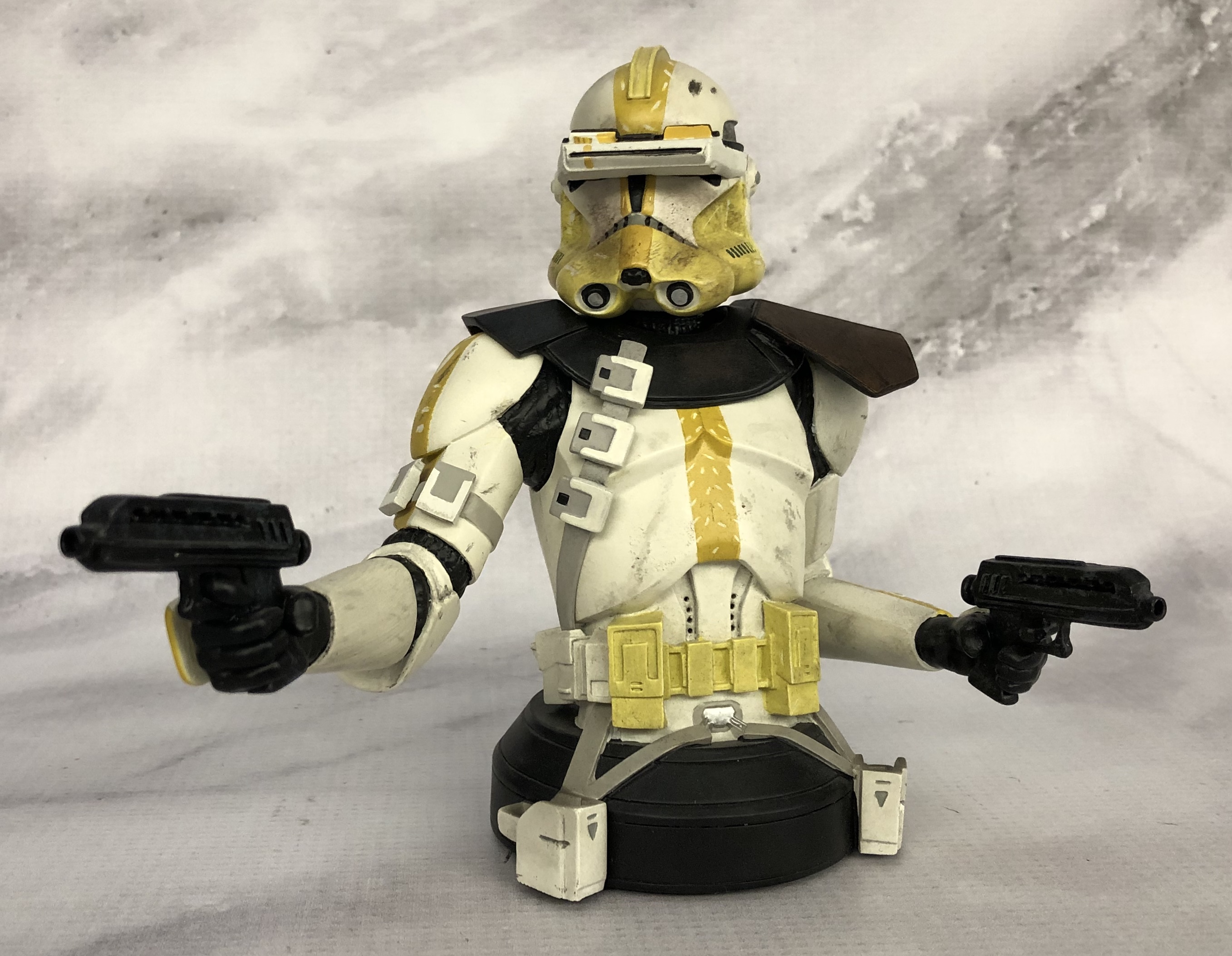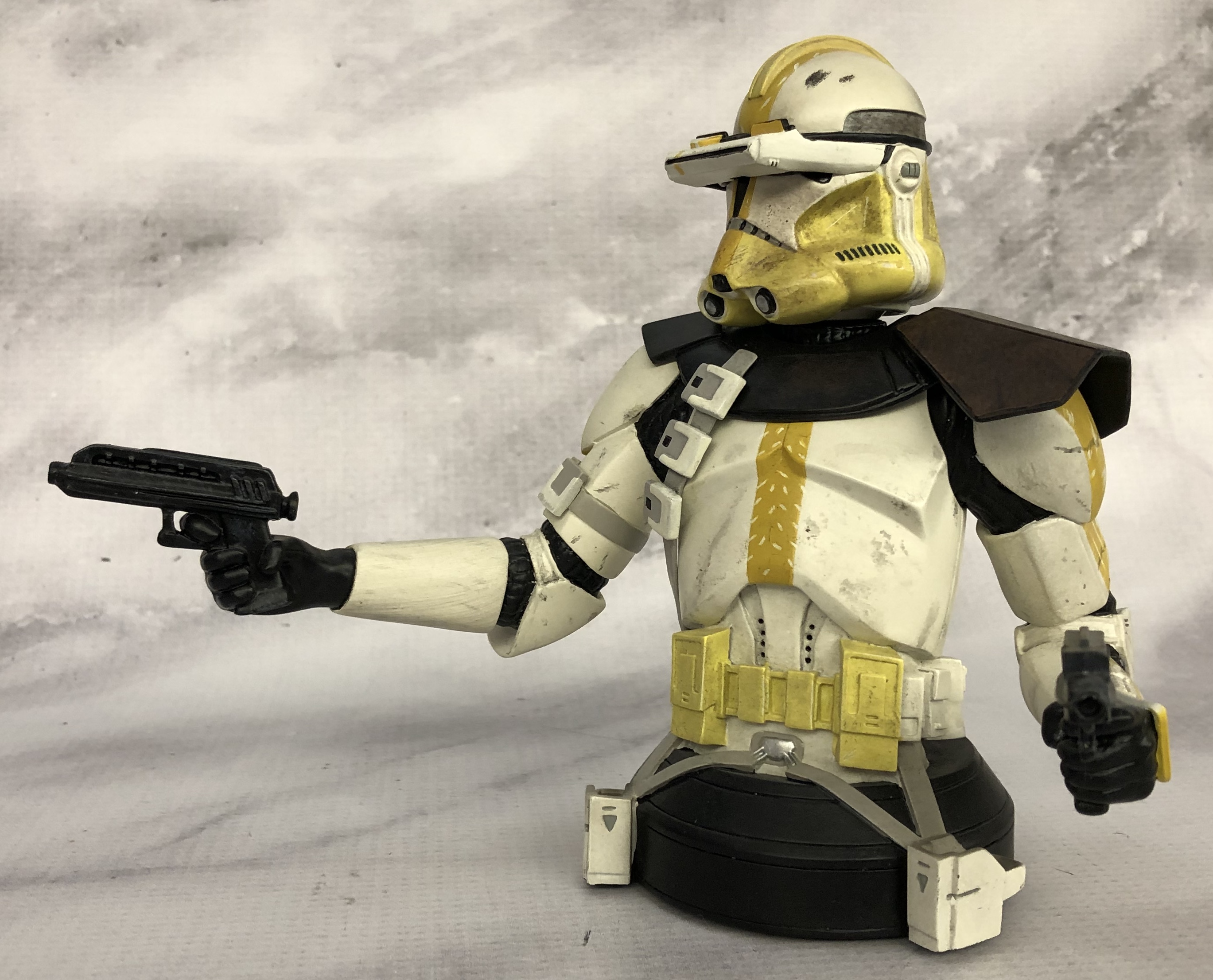 One last Star Wars mini bust I sold off last year was the Revenge of the Sith version of Darth Vader.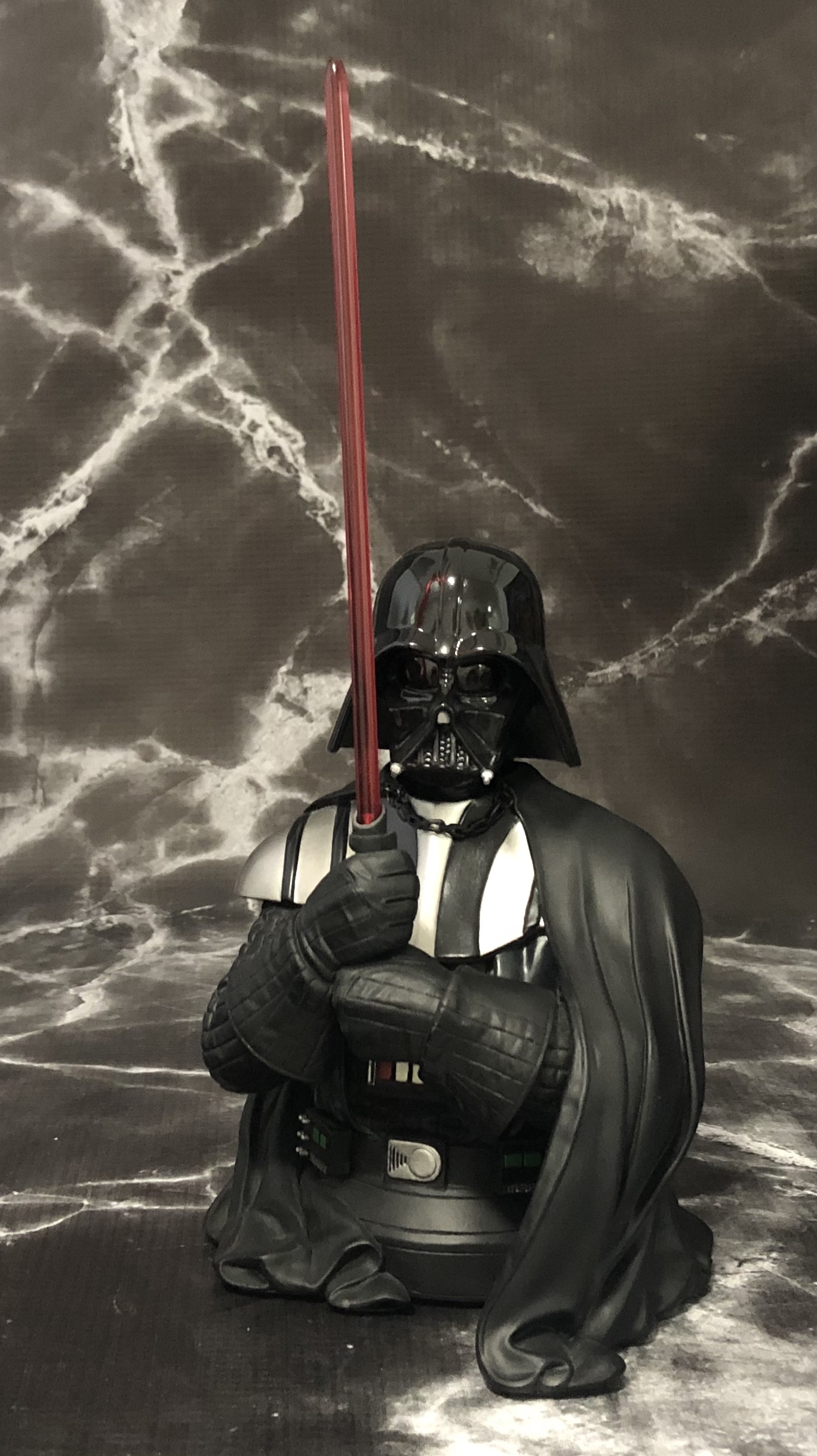 I have had others that I sold off previously, and I still have a few left that I will largely part with this year.
On to the saber hilt replicas. These are .45 scale replicas, so a little smaller than half size, so you can display more of them in a given space, and they are far cheaper than the full size ones were ($40-$50 vs $300+). MR even made a nice three tier display for them, which assisted in displaying more of them, in thematic groups. Like the mini busts, these are from 2005-2007.
Luke Skywalker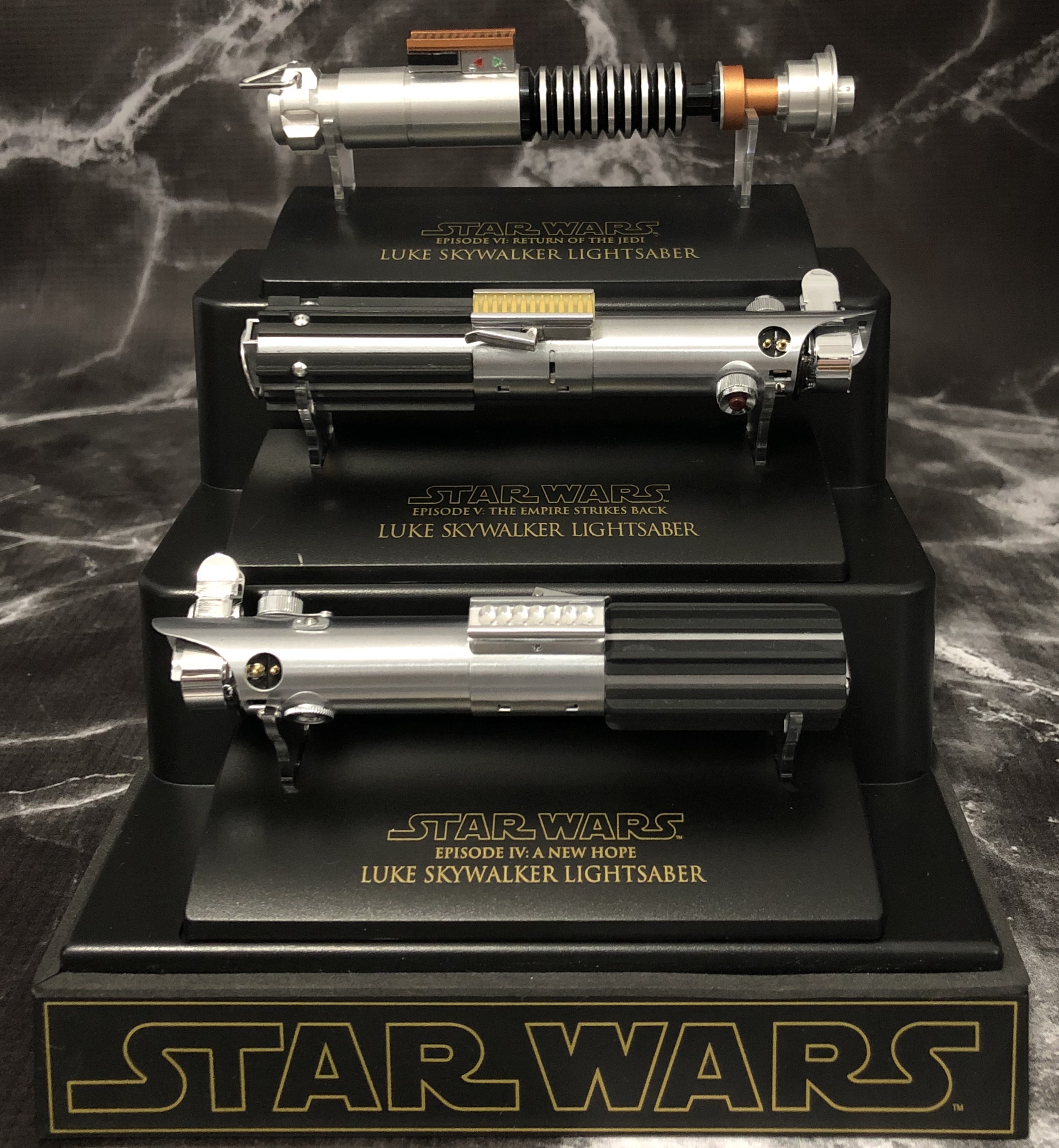 Darth Vader
Obi-Wan Kenobi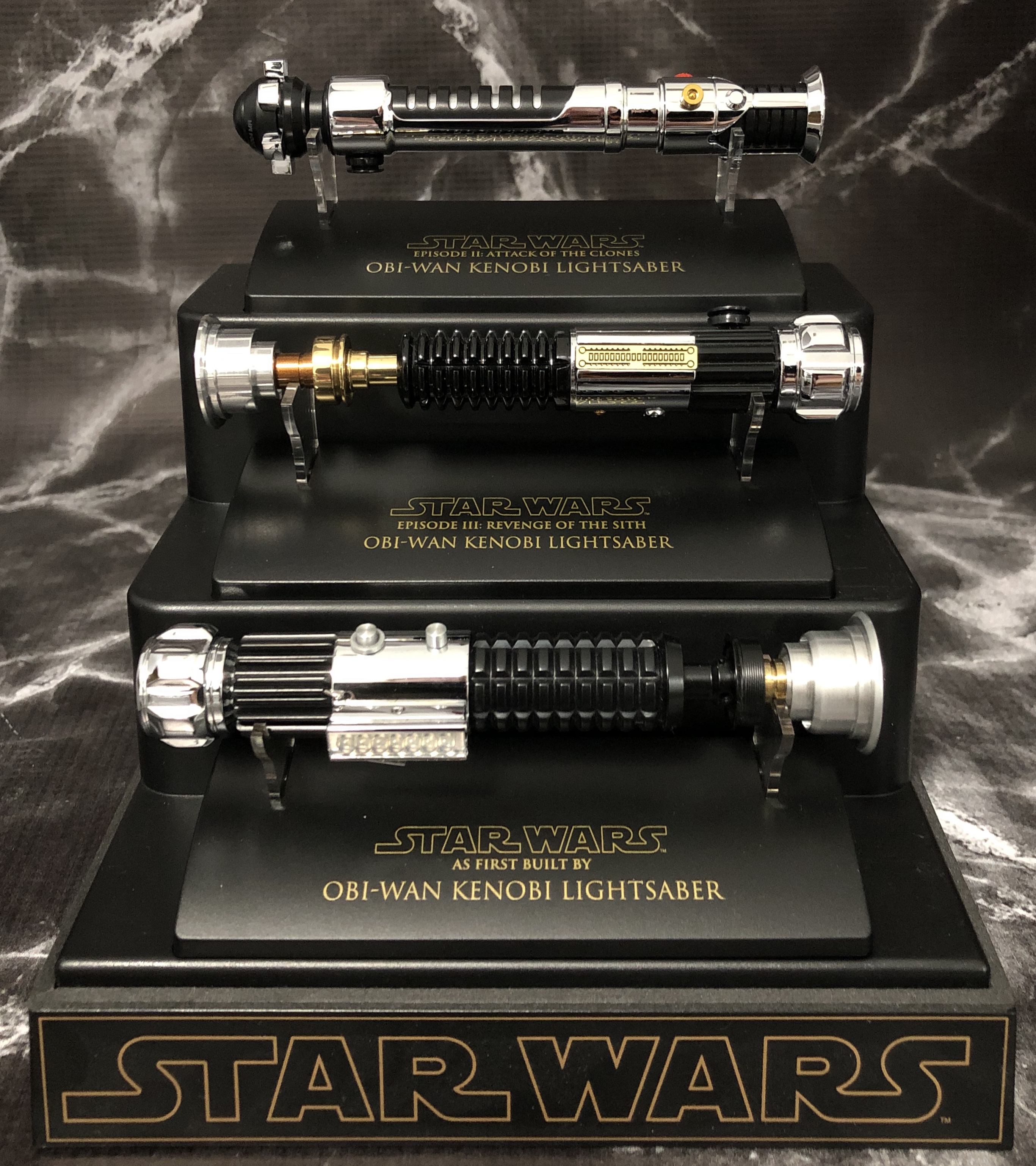 Darth Tyranus and Darth Sidious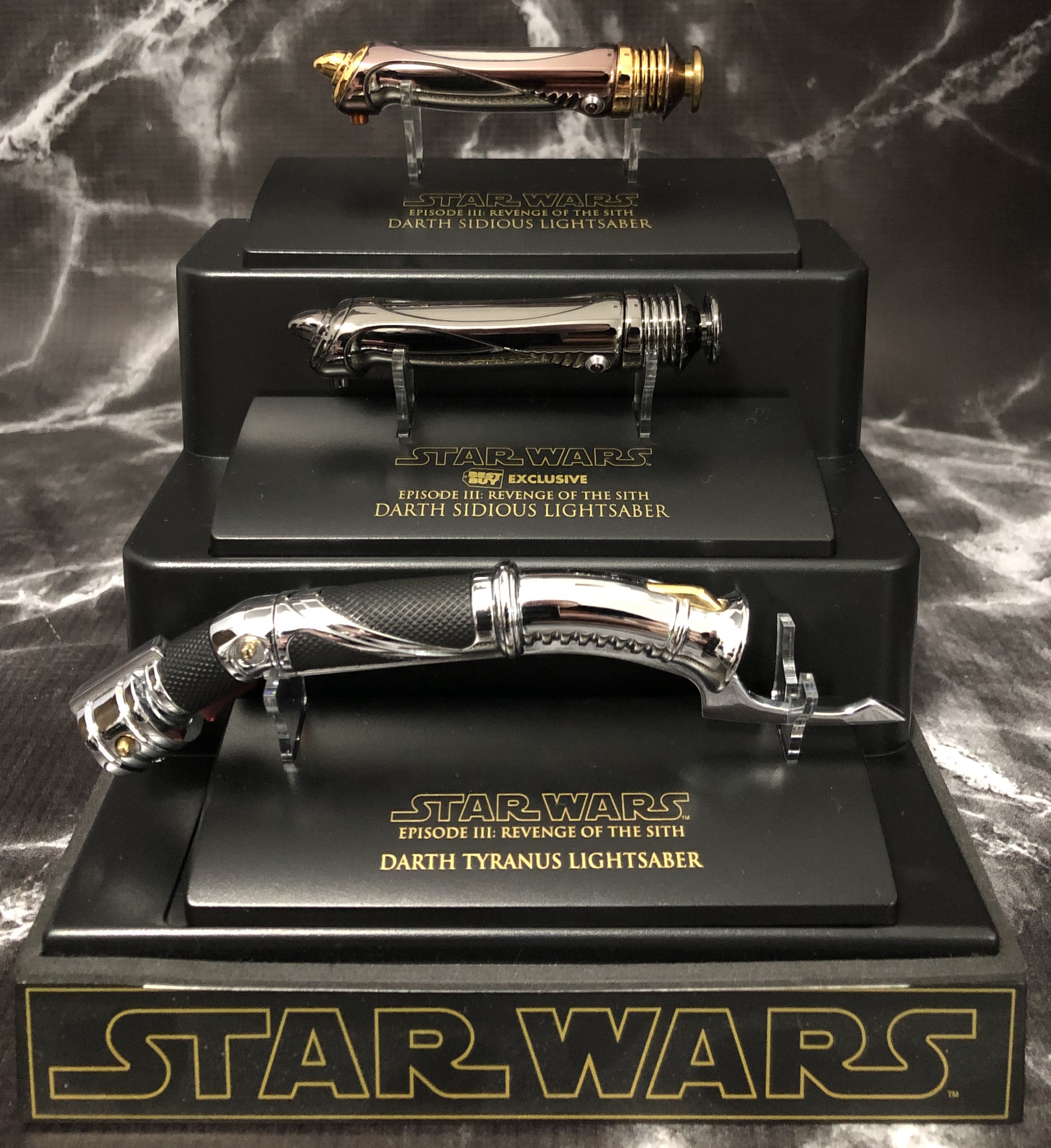 Anakin Skywalker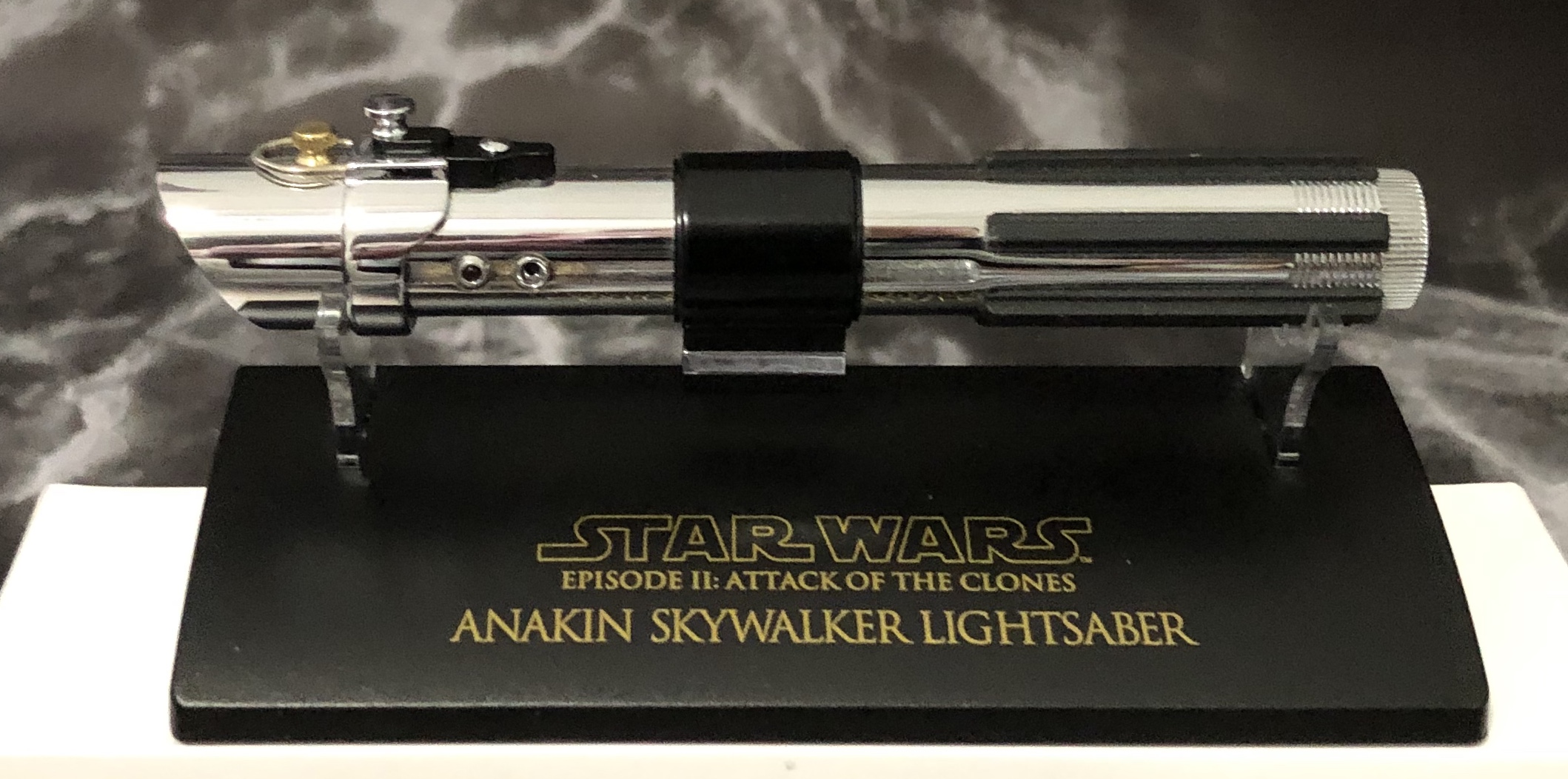 Qui-Gon Jin and Mace Windu
Darth Maul
And that does it for the Star Wars items I wanted to talk about. Next time I'll show off some DC busts and statues that I've had for a while that, like these SW busts, I felt like it was time to let someone else have them.
back to home